The benefits of fishing as a sport are many. Fishing is a great way to connect with nature and spend time outdoors. It is also a very peaceful and calming activity and can relieve stress. Fishing is a great way to exercise, and people of all ages can enjoy it.
Fishing is a popular sport, and there are many reasons why. According to the Recreational Boating and Fishing Foundation, fishing generates over $48 billion in economic impact annually and supports nearly half a million jobs. In addition, fishing generates $5.8 billion in federal taxes and $9.1 billion in state and local taxes yearly. This makes fishing a vital part of the economy, and it is clear that it benefits many people in various ways.
However, not many people can enjoy the benefits of fishing due to the lack of resources and access. This is where fishing tourism comes in. Fishing tourism is a great way to get people involved in the sport, as it allows them to experience different types of fishing at other locations. It can be profitable, but you might have to prepare for it. Here are a few steps to consider.
Getting the Necessary Licenses
A fishing tourism business needs to get a variety of licenses to operate. These licenses vary from state to state, so it is vital to research the requirements in your area. Generally, you will need a permit to operate as a business and request for each type of fishing you offer. You may also need licenses to fish in certain areas, and you will likely be required to follow local regulations.
It is essential to be aware of the regulations and restrictions in your area, as violating them can lead to fines or other penalties. You can contact your local fisheries department to get more information.
Investing in the Necessary Equipment
Of course, the average person does not know what equipment they need to fish, so it is essential to ensure you have all the necessary supplies. This can include rods, reels, lures, tackle boxes, nets, and other tools. There are also specific types of equipment that you may require for fishing in certain areas or particular species of fish. You should research the type of environment and fish you will be targeting before investing in any equipment.
Tourists can use inshore spinning fishing rods for various species, which can be ideal for some fishing tourism businesses. Furthermore, you may need to invest in a boat and other vehicles if you plan on taking people out on the water. This is essential for some types of fishing, as it allows you to access different locations and areas with greater ease.
Providing Professional Instruction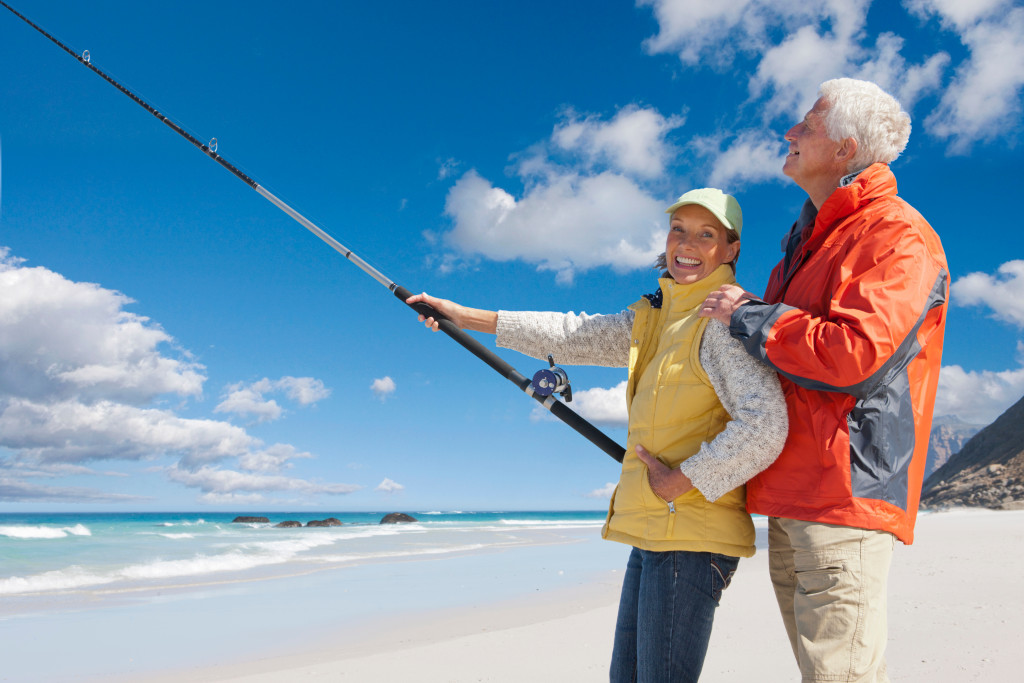 Finally, you must provide professional instruction when running a fishing tourism business. It would help if you had qualified staff who could teach guests how to fish correctly and handle equipment or supplies. It is also essential to provide detailed information about the area and local regulations, so everyone knows what to do when out on the water.
The guides on the boat must also be experienced and knowledgeable about the local environment, species of fish, and regulations. It would help if you had a team of professionals that can provide safety information to guests while also ensuring they enjoy their trip.
Last but not least, safety should be a priority when running a fishing tourism business. All guests must have the necessary safety gear, and they should be aware of the risks associated with fishing. It is essential to explain everything clearly and ensure everyone abides by the local regulations to have an enjoyable experience.
Market Your Business
You cannot expect your fishing tourism business to succeed without proper marketing. You may create a website or social media accounts to promote your services and attract potential customers. It would help if you also looked into print advertisements in newspapers or magazines and radio or television commercials.
You must demand your services if you want people to sign up for a fishing tour. Furthermore, it would be best to consider partnerships with other businesses or organizations, such as local hotels or tourist attractions. This can help spread the word about your business and ensure more people book tours with you.
Hiring a professional could be a good idea if you have marketing challenges, especially when understanding the market. A marketing agency can create campaigns and strategies that will help increase your reach and attract more customers.
Final Thoughts
These are just some steps you should consider when setting up a fishing tourism business. It is essential to obtain all the necessary licenses and invest in quality equipment while providing professional instruction and marketing your business correctly. With the right approach, you can create a successful business that offers enjoyable experiences for tourists who want to try their luck at fishing.